1
boom snake
Started by
sam sanford
,
May 20 2008 11:07 PM
Posted 20 May 2008 - 11:07 PM
i havent fallin in love with such a little band in so long. but i really dig this band.


www.myspace.com/boomsnake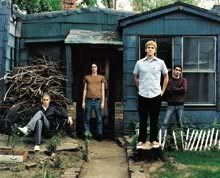 thepersonandthepeople.bandcamp.com
---
Posted 31 July 2010 - 05:01 AM
Was looking for new music 'round here, and this was the 1st thing i clicked on. totally digging it.

We'll talk about how we'll change but we will never follow through.

---
Posted 31 July 2010 - 10:51 AM
The first 20 seconds of Sampled Demolition.redux had me hooked.

+1 approve

archon of nothing
and lord of dispersing
but i cannot keep
my cursive phalanges
from fucking cursing
---
---
0 user(s) are reading this topic
0 members, 0 guests, 0 anonymous users